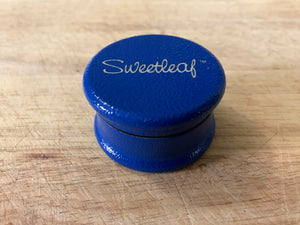 You can almost hear it when you open the lid... Jerry's guitar grooving. Our aluminum award winning grinder comes in this royal blue for all you Deadheads out there. 
Looking for something on the go? This little wonder will keep you moving. 
Conceived in Amsterdam, made in Canada. 100% pure aluminum with stainless steel pins. Pulls apart for even distribution. Award-winning grinder! 
Newest Version Available / 

100% Authentic Sweetleaf Brand

Heavy Duty Aluminum Construction for Maximum Durability

Compact and Easy to Carry Pocket Size (50mm/2.00" Diameter)

Extremely Tough Stainless Grinding Pins Shreds Dry Herbs

Round Ergonomic Shape with Lipped Edges for Superior Grip