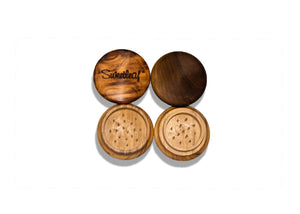 Conceived in Amsterdam, made in Canada. 100% pure wood with stainless steel pins. Pulls apart for even distribution. Award-winning grinder! 
Sweetleaf grinder is the original grinder to ever come on the market. The original party wood grinder which is half an inch bigger than the pocket wood grinder (2 1/2″) has a unique finish on every grinder so every grinder has its' own distinct look. This grinder is small enough to fit in your pocket but has the power of a wood chipper!   The Sweetleaf wooden grinder contours the palm of your hand perfectly when grinding making grinding your own material less of a chore and more of a quick simple process. Each Sweetleaf wooden grinder has it own unique natural wood grain. Its straight pin teeth design is based on a patent from 1905 and Sweetleaf was the first grinder to hit the market back in 1999. The Party size is 2 1/2″ and works well at home or when traveling.
The best
Far better than any of those grinders with the triangle shaped pins. Sweet leaf for life
Often imitated, never duplicated, a CLASSIC. THE OG!
I've had a pocket sized Sweetleaf grinder that says 'pat pend' since 2000, back when Eterra had the first wood log vape, before the aluminum 'mendo mulcher' and 'space case' grinders were even a twinkle in someone's eye. My grinder is still going strong. I use a Swiss Army Knife tweezer to scrape it clean every so often. I don't remember when or where I got this great grinder, but my little guy has been with me through countless adventures over so many years. I'm so happy to see they are still made and perfect as ever.
My husband had to retire his very first wooden grinder. His 43 yrs old….you do the math. He loved his sweetleaf so much that I had to replace his and bought my first one. I love it!!! Thank you.
Sweetleaf Best Grinder
I have had this grinder which states patent pending since 2002 I got it as a gift in Amsterdam I was a judge at the 15th annual high times cannabis cup I love my grinder it's broken and still works
Best purchase ever!
I bought one of these when they were first released in '99 and I still use it to this day, 23 years later. It has worked perfectly for all this time. It's the only grinder you'll ever need.